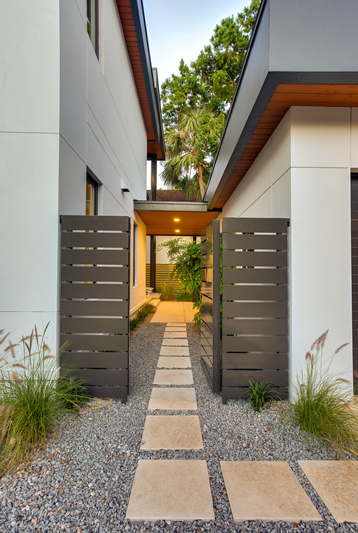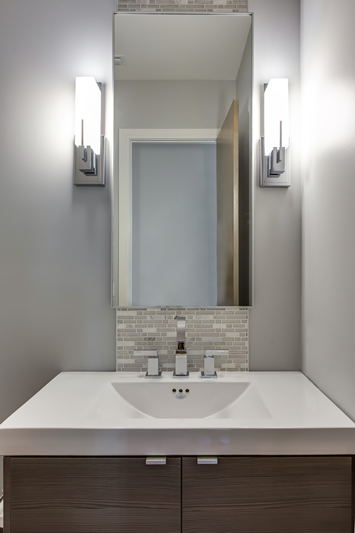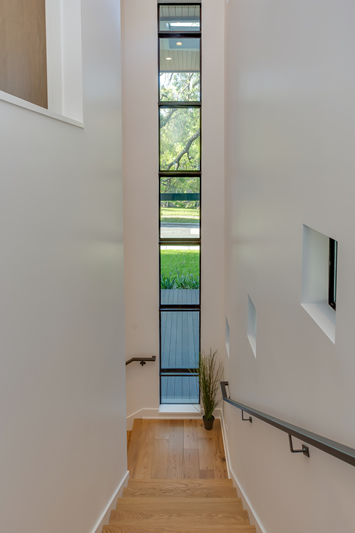 MODERN HOME ONE
Carlin Construction designed and built this modern home. A small 1950s house was removed from this corner lot to make way for a 3,150 square foot house with a clean, open plan. An existing grand oak tree on the east side of the lot could not be removed, and one of the main limbs of the oak tree intersected with the roof by the front entrance. Carlin Construction was able to preserve the tree limb by designing and building the roof around the limb, The roots of the tree need to be protected as well, so the foundation of the front entrance porch was designed so it spans over the roots. The entrance and porches are constructed with exposed structural steel to accommodate the unique building conditions created by he oak tree.
MODERN HOME ONE: West Elevation
This house is built with 2-story concrete block, code compliant windows, wood soffits, sound and thermal insulation throughout the house, glass tile, solid core wood doors, quartz countertops and stainless steel appliances.
MODERN HOME ONE: North Elevation
MODERN HOME ONE: Front Entrance
MODERN HOME ONE: Front Entrance
MODERN HOME ONE: Entrance Foyer
MODERN HOME ONE: Stairs to 2nd Floor
MODERN HOME ONE: Second Floor Foyer
MODERN HOME ONE: Back Patio
MOERN HOME ONE: South Elevation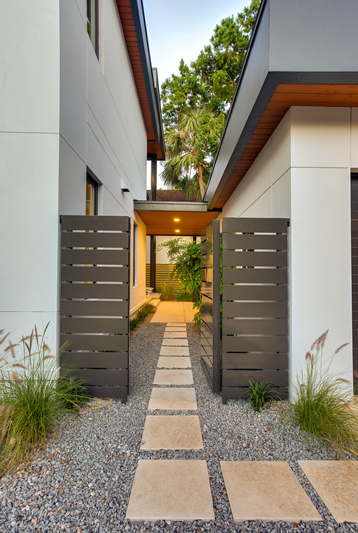 MODERN HOME ONE: Side Gate
MODERN HOME ONE: Entrance Foyer and Living Area
MODERN HOME ONE: Living Area and Kitchen
MODERN HOME ONE: Living Area and Kitchen
MODERN HOME ONE: Kitchen and Living Area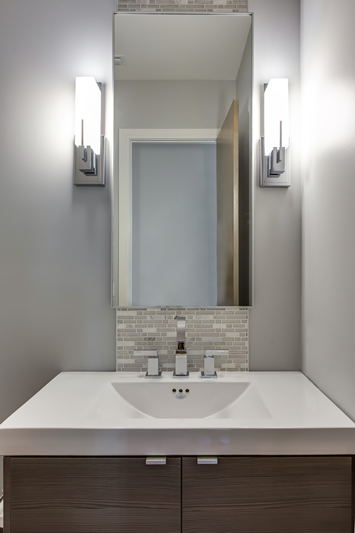 MODERN HOME ONE: Powder Room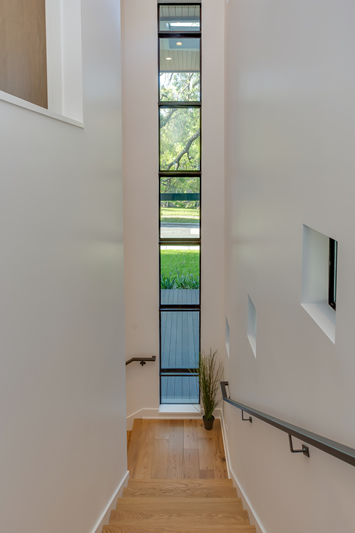 MODERN HOME ONE: Entrance Foyer from 2nd Floor
MODERN HOME ONE: Master Bedroom
MODERN HOME ONE: Master Bathroom Shower
MODERN HOME ONE: Master Bathroom Tub
MODERN HOUSE ONE: Master Bathroom